[12 Key Tips For] Modern Farmhouse Living room (With Surprising ideas). people often head toward their farmhouses when they feel like they need a break. What do you think can be the reason behind this? Maybe the wholesome and calm vibe that is asso
ciated with farmhouses, isn't it? Well, what do you think are the determinants of a lively farmhouse?
Reclaimed wood décor, huge pine furniture including sectionals, tables, and coffee chairs. Other than this plank floors are also a hallmark of farmhouses. As a whole, each and every component contributes to giving a wholesome and calm look to the farmhouse.
However, with a busy schedule heading toward farmhouses can be a challenging task. In such a case what can be the alternative to having a soothing holiday? How about converting your own living room to a farmhouse living room? Yes, you heard that right.
Converting the whole outlook of your conventional or cityside living room to a farmhouse-themed living room is not a big deal. You can do this by taking a few simplest steps.
Well, down here we will guide you and will tell you about the transformation from head to toe. We know that transforming a room demands a huge expenditure but if done smartly it can be achieved while remaining within your budget. So, let's get started from the top and see what possible measures we need to take to convert our living room into a blessing.
1. Add natural wood accents
Wood is abundant and is easily available that's why most people tend to build most of their farmhouses using wooden accents. This is not only friendly to their pocket but also gives a wholesome look to the overall farmhouse. But now the case is that you have to change your apartment's living room into a farmhouse living room. For that, you can't break the whole ceiling and then add wooden logs. You will have to get barn boards and butcher blocks to give a look like your whole living room is made using natural wood logs.
Doing so means that you are making your living room a cool and calm place with the feel of a countryside living room. Along with this using the wooden logs installed on the ceilings can also do magic on the overall face of your modern living room.
There may not be any structural impact on your living room but of course, it will put a great visual impact on it. Similarly, you can also go for the addition of wooden shelves on the accent walls on which you can add a few green plants to give a countryside feel.
Another possible way to play with those wooden accents is that you can add thin wooden planks to the whole TV wall and then hide the TV in it properly so that only the screen is visible outside.
What are the suitable colors to add to wooden accents?
If you are about to add wooden accents because you want to give a natural farmhouse look to your living room then try to keep it more on the natural side. This means that the natural wood color or the warm colors go easy and get incorporated with the overall decor of your living room.
But we will recommend you to go for the natural brown wood shade for the respective accents to give a look that is strictly associated with farmhouses.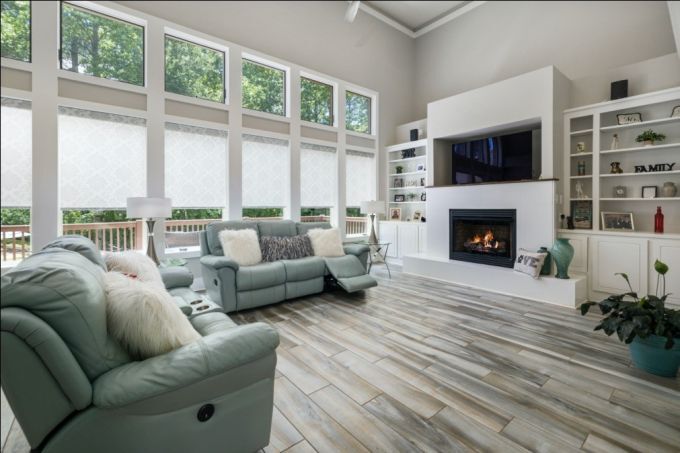 2. Try to bring green hues in your living room furniture
Usually, farmhouses are associated with greenery, freshness, an influx of fresh air, and a calm feel. With all of these factors, we can combat our stress and anxiety. Yes, these factors do hold a magical spell on them. So why not bring each factor to the comfort of your apartment's living room?
By doing so after feeling exhausted from your daily routine you don't have to drive towards your farmhouse to relax instead you can spend your days and nights in your soothing living room and still feel fresh as a daisy all because of the soothing interior.
Though what is the first step you need to take to bring your living room towards calm vibes? Of course, the first thing to be manipulated is the color scheme. Colors are what radiate good or bad energy so it is obvious if you will choose a calm color like white and green instead of sharp red or orange you will feel better.
So, leave that traditional idea of buying brown furniture behind and get yourself a good-looking plush couch that lies within the green color palette. Along with this, you can also work on the decorative items and the color of your curtains. Try to stay on the lighter side when it comes to the fabric or the texture of your farmhouse-themed living room.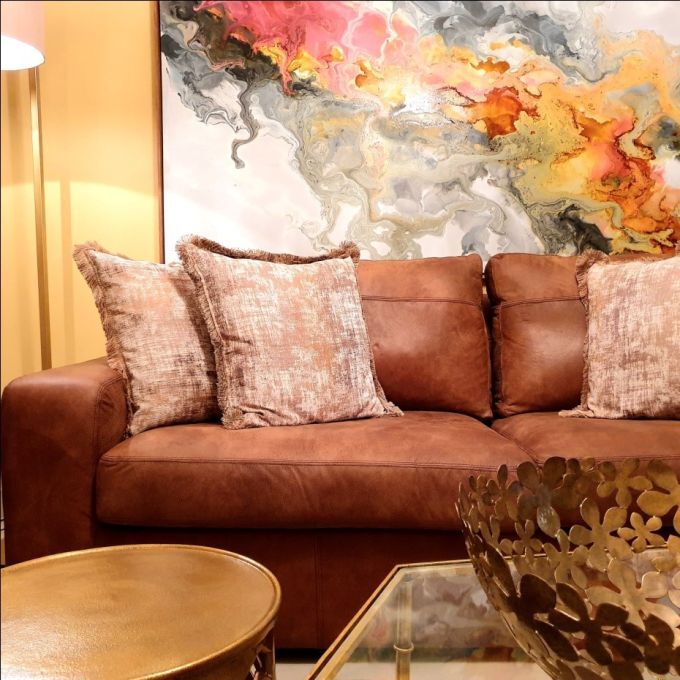 3. Place a cool 3D wallpaper on the sofa back wall
Do you want to make your living room a place where everyone wants to spend their days and nights without getting bored? But wait; at the same time do you want to stay on the economical side? Then no need to worry because here we came up with a ravishing idea to give a whole makeover to your living room without breaking the bank. Let's see what that is.
Usually, the sofa wall and the TV wall are the focal points of every living room. That's why everyone spends a lot on making them a cool and attractive spot. Well, to adopt a farmhouse living room theme you will have to give them a feel that is associated with nature.
So, how about doing so by applying a lively 3D wallpaper to the sofa back wall or the TV wall? Isn't it a great and economical idea to adopt? Of course, it is. But remember you will have to choose the wallpaper wisely by keeping the theme of your living room in mind. For instance, if you are adopting a farmhouse theme then going for a floral or leafy print is recommended. Other than this a wooden pattern is also accepted with open arms.
Once the wallpaper is applied then you have to make sure that your furniture is going fine with the theme if you feel like any furniture piece is going out of rhythm then changing it or changing the upholstery is recommended.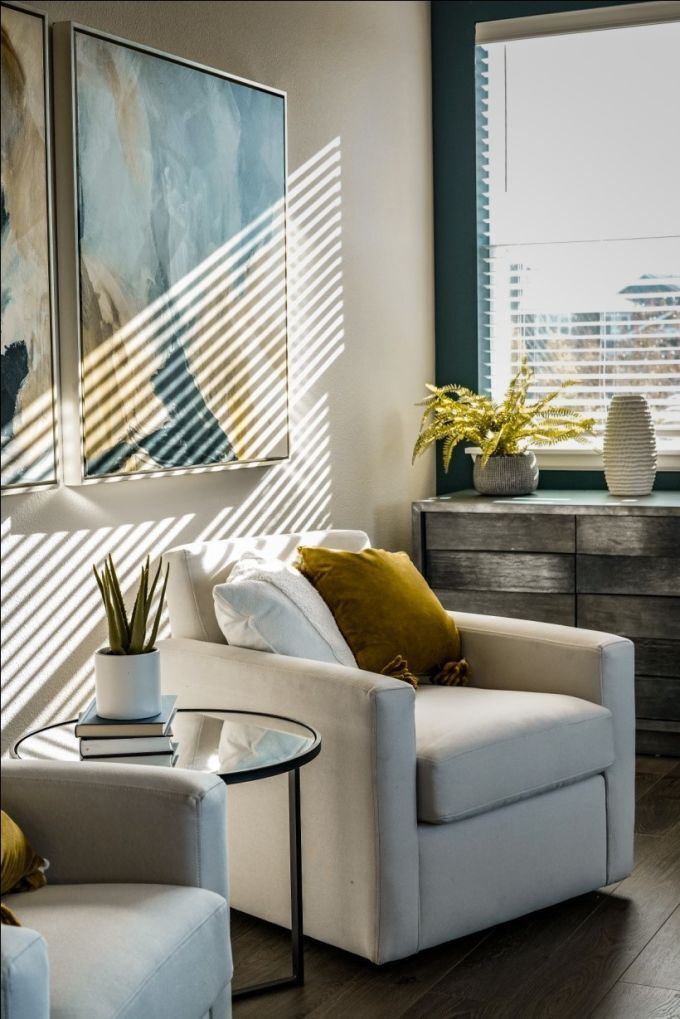 4. How about adding window blinds to your living room?
To keep your living room a cool and calm place now you can place those window sills and blinds on the windows. This will not only keep your living room on a cooler side but will give it a countryside feel. Those shadows overall can give an absolute filmy look to your farmhouse-themed living room. And the good news for you is that you can get window blinds in a variety of colors and designs.
You will only have to invest once and after that you don't have to worry about their maintenance or laundry. Along with this you can enjoy full privacy on your off days and can chill in your living room in day heat as blinds will completely make the sun non-existent for you. So, what are you waiting for?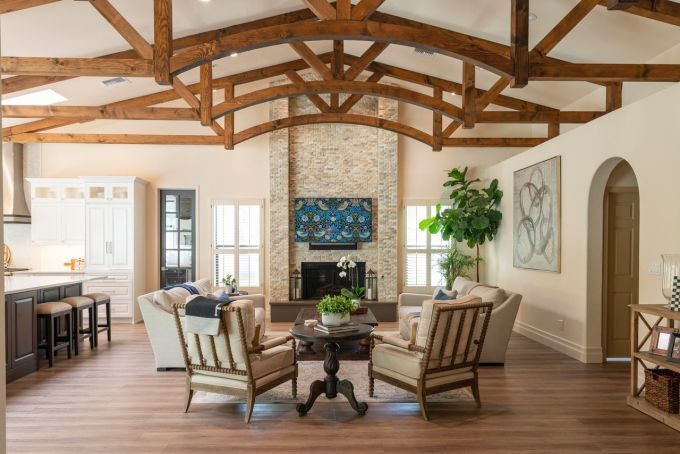 5. A traditional makeover of your farmhouse-style living room
If you want to give a good makeover to your living room while strictly remaining within the farmhouse style then here we will tell you how to do it in the traditional style.
For the families in which only grown-up, people or adults are present their preferences are quite on the decent side instead of going funky or adopting several color themes. While keeping this point in mind here is what you can do to convert your living room into a countryside farmhouse instantly.
Try going for light-colored bamboo sofas or sectionals. This will give a calm feel to the environment of your living room. Also, if you want to get wooden sectionals then remaining between the skin, off-white and beige shades would be a good idea.
You need to get wooden side tables or ottomans in contrast with the furniture you have bought. To decorate your side tables get some traditional style or antique lamps and candle stands.
The addition of green plants, no matter fresh or artificial can add life to the farmhouse-style decor of your living room. You can add these flower pots to the side tables or the gateways.
Try to get a range of books and make a pile somewhere in a suitable corner of your living ROOM. Make sure that you are placing them in an approachable manner for your visitors and family members. This will put a good impact on your visitors of course.
The addition of a good range of scented candles can do miracles for you and your friends. From our side it is recommended to choose the flavors that are associated with nature like rose, jasmine, lavender, and cinnamon, lemon flavor is also a good option. Other than this you can look for the one that you think is the better option to calm your senses.
Another best way to complete the overall look of your living room is to add some floral or abstract art paintings to the vacant walls of your living room. For instance, the back wall o0f your sofa is the best spot to add a huge painting.
If you have enough time and can spend a considerable amount on the décor of your living room then you can make the windows and ceilings your focal point. You can add wooden accents on the ceiling to give your living room a pure farmhouse feel. And with windows going for double door smaller windows is the better idea. Try to get semi-opaque glass for your windows.
6. Get yourself vintage furniture and use traditional fabrics
Vintage furniture, calm vibes, and the incorporation of nature are the hallmarks of the living rooms. Well, to achieve a farmhouse theme for your living room you will have to keep these points in mind. This means you will have to change your furniture in the first place.
By getting vintage furniture we never mean that you will have to get those old worn-out furniture pieces from the auction guy or a museum. You can simply get your favorite vintage furniture pieces made from the nearby craft man.
Nowadays, craft men are spending efforts in designing mixed and matched vintage furniture pieces in which they are adding a touch of modern and traditional furniture both. They are taking the whole look from the vintage furniture pieces but adding the comfort derived from the modern furniture pieces. This means you can get the best possible products to change the overall outlook of your living room.
Now that you have got your furniture or you already had it then going for the sofa slipcover or the cushions can be a great idea to give a new life to your living room.
We would say the addition of floral fabric to your furniture or those floor cushions will really complement the whole farmhouse theme of your living room. These throw blankets can also be chosen according to the theme of your living room.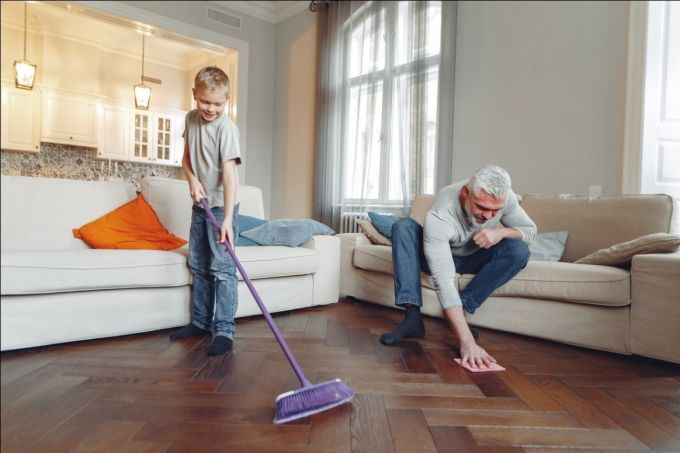 7. Wooden flooring is the foremost step you need to take to adopt a farmhouse theme
Yes, this is right. If you want to transform your living room into a farmhouse then trust me there is nothing better than going for the wooden flooring of your apartment in the first place. It will not only give your living room a soothing feel but make all of the cleaning procedures easier than before.
When it comes to the color of your apartment's wooden flooring then remaining on the lighter shades is mostly preferred. As light brown color resembles natural wood and it will give a feeling of the floor made using natural wooden planks.
You can also add floor rugs to different parts of your living room. Like, you can add a big round rug in between your sectional and coffee chairs. After that, it's up to your whether you want to place your table on it or keep it the way it is.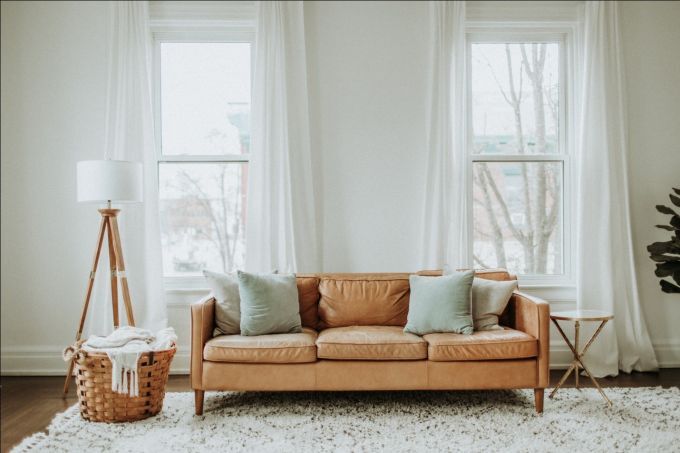 8. Stick to the natural elements
Natural elements like distressed wood, natural fibers, cotton, and wood-like sisal and rattan are the things that are must to have ingredients in all of your living rooms. You can also go for bamboo products. All of these ingredients collectively are capable to give a soothing feel and loveable environment to your farmhouse-themed living room.
Using bamboo baskets as decorative items are mostly preferred in farmhouses so try to get a maximum of bamboo baskets and place your essentials into them. You can also get bamboo side tables and place a maximum of your books and magazines on them.
Try to cover your throw cushions using a cotton soft fabric so that it gives a loveable feel to your living room. And yes, you need to keep one thing in mind you are going to create a clean and soothing environment not a cluttered room so get rid of those huge industrial elements and bring in the range of minimalist products.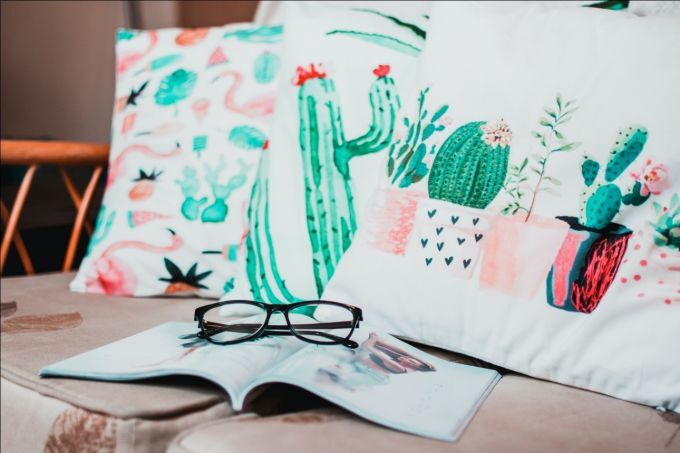 9. Throw pillows makeover by using a floral fabric
Normally, throw pillows and cushions are said to be an integral part of your living room. This means the overall living room is dependent on what type of cushions and throw pillows you own right? Well, while keeping this point in mind we came up with an idea that instead of changing the whole furniture of your living room why not do something interesting with those cushions?
Yes, you heard that right. You don't have to spend several dollars on changing the whole furniture. Just get a good floral fabric with greenish shades and cover all of your pillows while keeping a good rhythm in mind. After that, you can place some matching throw blankets or sofa covers too.
We think this step can change the overall countenance of your living room in the least possible time.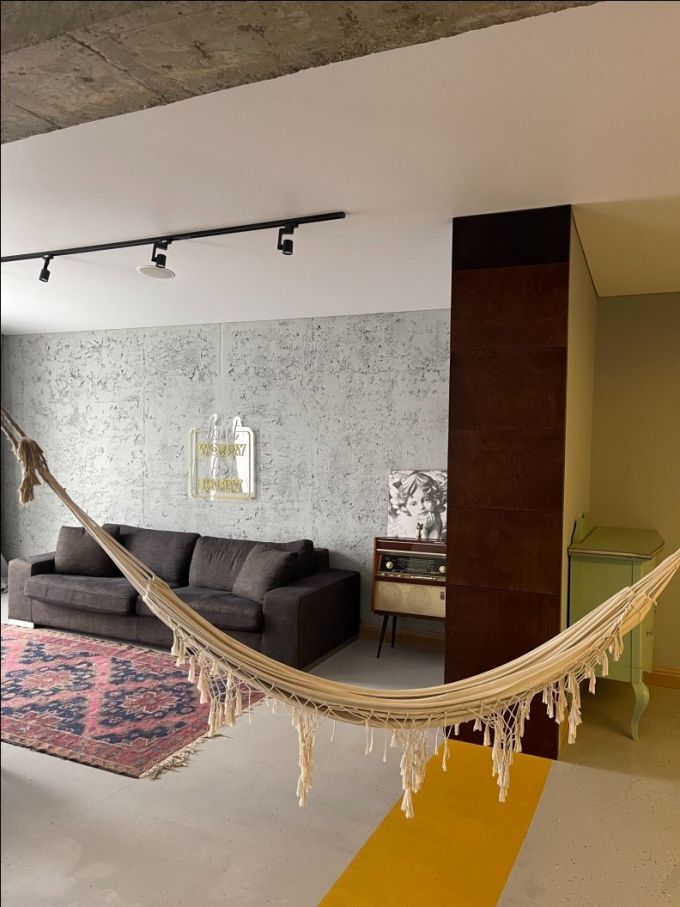 10. Bring outside material inside
Bringing outside material inside never means that you have to bring your car and roads inside. We simply mean that you have to picturesque your farmhouse and imagine what are the products that make your farmhouse a loveable and fresh place.
After that make a list of the products that you can easily incorporate into your living room. Are you all done? Now is the time to buy all of those products instantly and give a new face to your living room.
Well, let us help you out with the stuff that you can possibly buy for your farmhouse-themed living room.
In the first place, getting your TV back wall decorated with stones can do absolute justice to the whole farmhouse theme. You don't have to break the TV back wall instead you can simply talk to a professional mason to help you out in making a stony back wall. Try to stay on the natural side, which means you can use natural stones for the whole decor.
Other than this bringing your flower and plant pots into your living room is another easiest yet outstanding idea that will for sure make your living room full of oxygen and make the overall environment fresh and soothing.
You can also place your succulent pots on the middle table of your living room. They will give an ultimate aesthetic look to your farmhouse-themed modern living room.
Transformation of your fireplace into a stove-like place. By stove-like place, we mean a fireplace in which wooden logs are clearly visible. This will make you feel like you are sitting in your farmhouse and staring at the sky while soaking heat out of your fireplace.
Getting a hammock or a swing installed in your living room can do absolute miracles for you. Now you don't have to go to your farmhouse to take that amusing feel that one can get out spending quality time in your favorite swing. We would recommend you to go for a larger hammock in which you and your partner both can spend quality time while watching TV or just relaxing.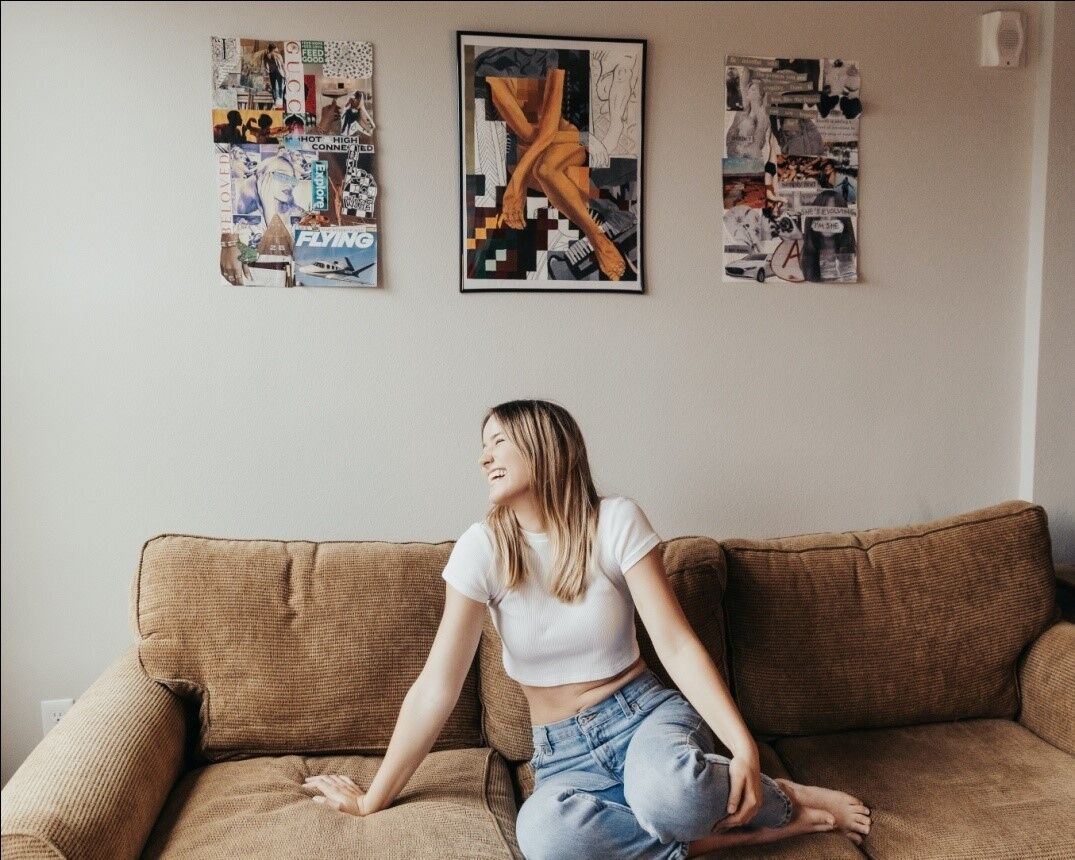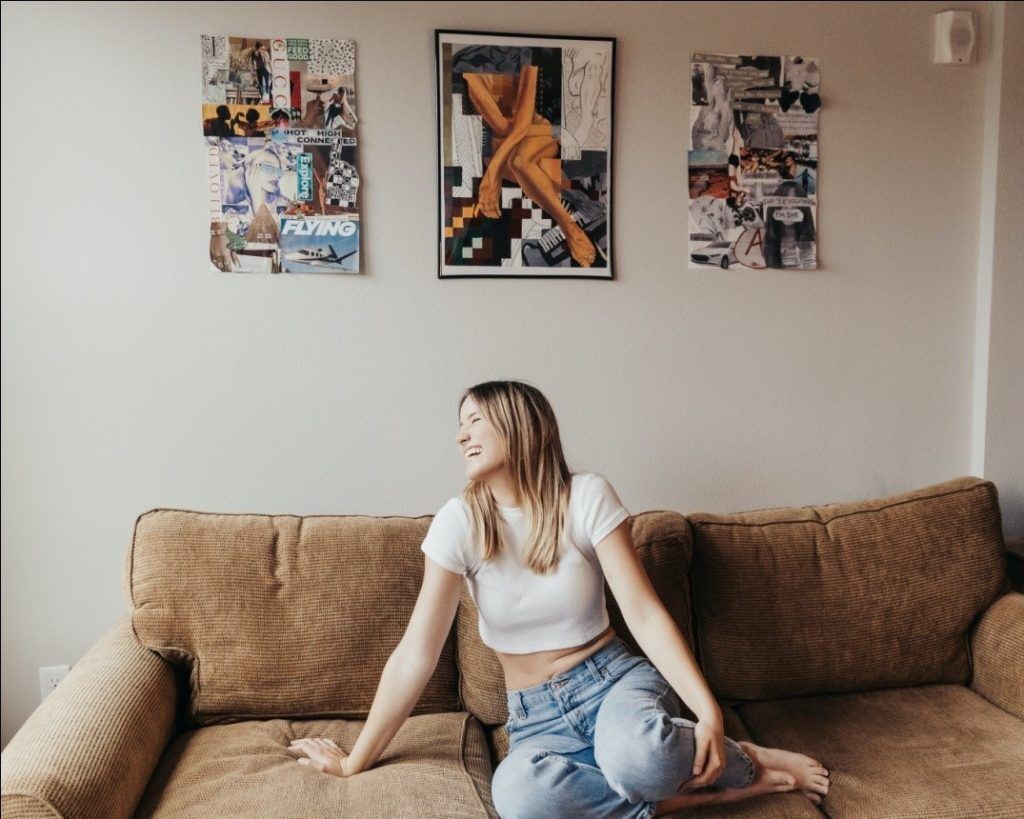 11. Another amazing idea is to get abstract art paintings
Huge abstract art paintings are loved by everyone and are easily available in every art exhibition. So why not get a good range of abstract art paintings and hang them in your farmhouse-themed living room?
You have to find a vacant wall in your living room and then fill it completely with a wide range of abstract art paintings. But if you are a person who is not so much into abstract prints then going for the paintings associated with nature and lying in the greenish pallet are preferred.
You can also get your nature photography printed and framed and then place those entire masterpieces in your living room. Trust me you will definitely get a soothing feel and will get loads of appreciation from your visitors as well.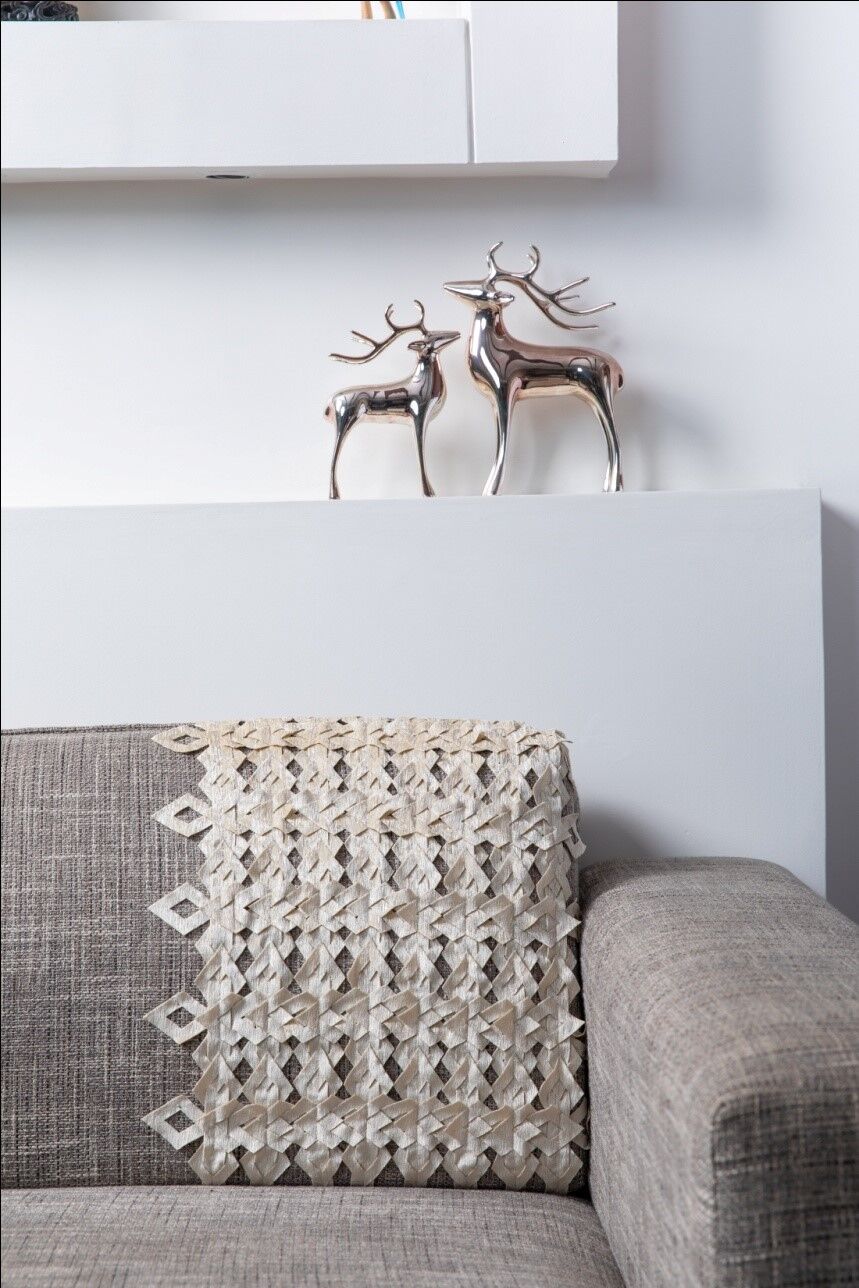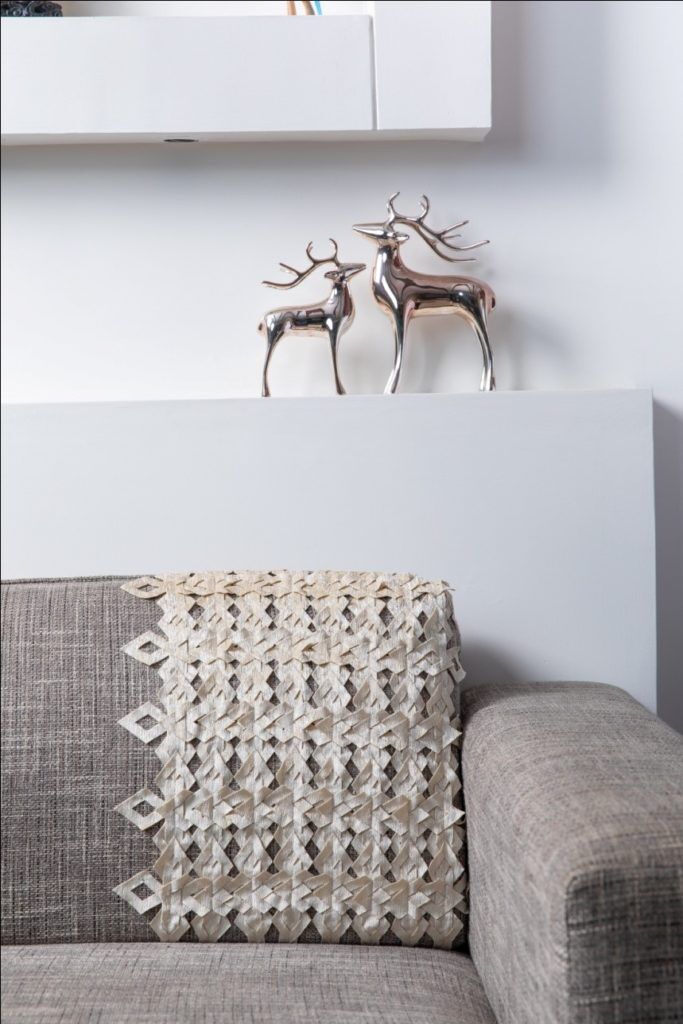 12. Get some of the decorative items that are associated with wildlife
Another brilliant idea that you can adopt to convert your ordinary living room into a cool farmhouse living room is to invest in getting some cool statement decoration pieces. We think getting the statements made out of wood carving can do better with the whole decor but if you are getting them in some other material then this is also fine. Just buy those decorative pieces according to the dimensions of the area in which you are about to place them.
Conclusion
Now you can spend your weekends in the comfort zone of your living room instead of rushing to your farmhouse. All thanks to the modern decorative ideas by using which you can convert your traditional living room into pure bliss, i.e. a farmhouse-style living room.
We hope that we have done enough and made it easier for you to decide what you exactly want to do to make your living room a soothing place. Just follow all of the instructions and we are quite sure that you will get adorable outcomes.